FargoDome Seating Chart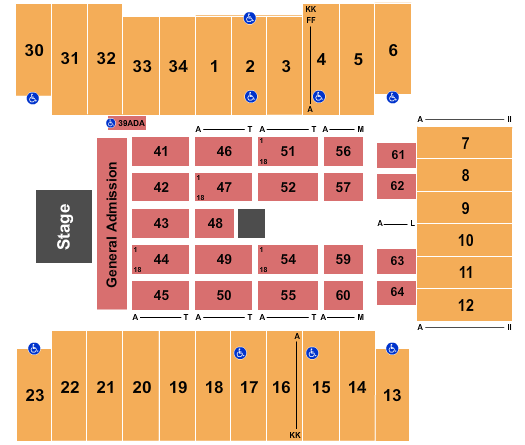 The FargoDome has impressive versatility when it comes to seating options for it's guests.
With an incredible capacity of up to 19,000 – one thing is for sure, you won't be short of choice on where to sit during the concert or sports event.
This huge capacity allows the venue to completely transform to suit the event type from conference facilities, to concert hall, to football arena, to a theatre setting and more!
Here are the main seating options to choose from:
Floor Seats – Floor seating comes with your very own padded folding chairs available to use during the event. These seats are easy to locate once you arrive at the venue, just look for your section, row and seat number and sit back and enjoy the experience.
Elevated Floor Seats – This option includes the same as the floor seats as well as the elevated option to choose permanent seating. A great choice if you like to be close to the action whilst watching your chosen must see event.
General Admission – General Admission seating is set out on a first come, first serve basis. If you select this option for your seating, just turn up on the night and choose your desired place to be in the crowd.
– Please note for some events, the General Admission option will be standing only.
Elevated Seats – If you wish to select permanent seating for your FargoDome experience, you won't be dissapointed. The elevated seating includes arm and back support to ensure the very best comfort during your event. The rows will be clearly stated for you to locate your seats between rows A-Z.
Side of Stage Seats – Side seating is another great option as it gives you the chance to be up close and personal with a view to the stage from the side.
ADA Seating – Accessible seating has been put in place by the law of the Americans with Disabilities Act at the FargoDome. These seats are available to be used soley for patrons with disabilities and for wheelchairs only.
Which-ever the event, FargoDome ensures that it caters for all with it's wide range of seating. When booking your tickets for the event, you will be given the above options to choose from. Please see the seating chart for more details.
NOTE: FargoDome may host events that require different seating arrangements. When you select your tickets, please check the seating chart map that is specific for your event.
You can book your ticket today and grab yourself the best seats available. Check out the FargoDome schedule to see all the exciting upcoming events.
For policies and authenticity guarantees regarding the tickets provided, please see the ticket information page.